Fingal County Council hosted the launch of the 19th edition of the Dublin Economic Monitor where it was revealed that the capital is close to full employment, with the areas of finance, insurance and real estate activities hitting all-time highs, supported by Brexit relocations.
Members of the business community, along with Mayor of Fingal Cllr Eoghan O'Brien as well as local councillors and Fingal County Council's Director of Services for Economic, Enterprise & Tourism Development Emer O'Gorman, attended the launch at Newbridge House in Donabate.
The quarterly report, produced by EY-DKM Economic Advisory, examines a range of economic indicators driving the city's growth, including employment, property and rental prices, housing commencements, hotel rates and public transport use, to determine its economic performance from the height of the boom to the economic crash and subsequent recovery.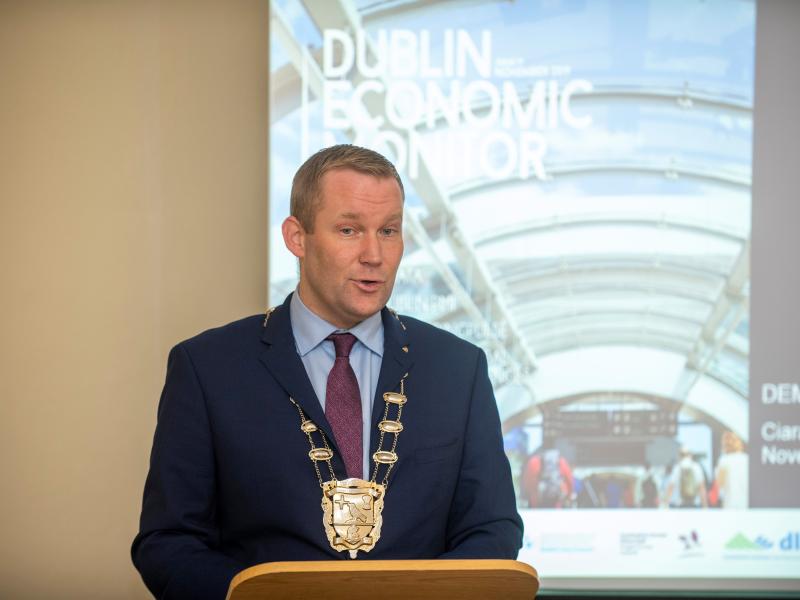 Launching the report, Mayor of Fingal Cllr Eoghan O'Brien said: "Fingal County Council continues to work to develop the local economy. The Dublin Enterprise Zone in Dublin 15 is going from strength to strength, now employing over 20,000 people. The Council will continue to support and invest in the Dublin Enterprise Zone and in the Stephenstown Industrial Estate in Balbriggan as part of the Our Balbriggan Rejuvenation Plan."
Fingal County Council Director of Services Emer O'Gorman said: 'Fingal County Council is strongly committed to the economic development of Fingal and will continue to focus on developing a strong, vibrant and prosperous local economy in the county."
Commenting on the report, Ciara Morley, Senior Consultant at EY-DKM Economic Advisory, said: "Dublin Tourism showed growth of 8.3% in Q3, however UK tourist spending contracted for the third consecutive quarter indicating that UK tourists are considering postponing foreign trips as they reassess their expenditure in light of Brexit. The CEO of Tourism Ireland has called uncertainty the most pressing issue for the sector. Budget 2020 provides the tourism sector with a contingency fund of €40 million to insulate against Brexit-related shocks."
Ms Morley added that nationally tourist spend has increased with both USA and China showing consecutive years of growth and that new opportunities in emerging markets particularly in the East should have positive effects on tourism in Ireland.
Some key indicators included in this issue are:
Average monthly rent in Dublin in excess of €1,700
Housing completions & commencements have contracted marking the first quarter of negative YoY growth since 2015
Tourism visits to Dublin are down from UK as result of Brexit uncertainty
Consumer spending in Dublin continues to grow with retail spend in Dublin exceeding national levels
The Dublin Economic Monitor is a joint initiative of the four Dublin local authorities, produced by EY-DKM Economic Advisory. The report focuses on the Dublin region, and tracks key economic indicators including the Mastercard Dublin SpendingPulse, capturing data from the height of the boom to the economic crash and the subsequent recovery.
To access the full report please click on the following link: www.dublineconomy.ie