Fleadhfest, a virtual festival based on Fleadh Cheoil na hÉireann, has been launched by Minister for Tourism, Culture, Arts, Gaeltacht, Sport and Media Catherine Martin TD.
Speaking by video link from Dublin, the Minister welcomed Fleadhfest to Sligo, saying that she is "delighted that Comhaltas and Sligo have come together to develop Fleadhfest as a way to bring joy to people's lives and to share our stories and our music."
Fleadhfest was officially launched at the Peace Park in Sligo, where between August 1st – 9th next, a gig rig will be set up to provide concerts with great traditional music acts like Dervish, Téada, Moxie, the Knocknashee Céilí Band and the Mairtin O'Connor Trio.
Councillor Paul Taylor, Cathaoirleach of Sligo County Council, was also in attendance for the launch, and said, "I think that the Peace Park will be the perfect location for the concerts at Fleadhfest. Along with so many people, I'm looking forward to seeing and hearing live performances again. It's a wonderful initiative, and I wish the Fleadhfest team the very best in the work that remains ahead of the event next month."
"It's a brilliant opportunity for all of the musicians involved," says Cathy Jordan, singer with Dervish, who will perform on the gig rig stage on Saturday August 7th.
"After so many months of inactivity, or playing music through Zoom, to actually get out on stage and play and sing again, it will be a real musical highlight. I know I speak for all of the bands when I say that we can't wait!"
"All of the concerts will be streamed online and will be free to anyone who wants to watch worldwide," says Bartley Gavin, Chair of Fleadhfest.
"In addition, Covid-19 regulations also mean that a number of people will also be allowed to attend in person, tickets are available on the Fleadhfest website."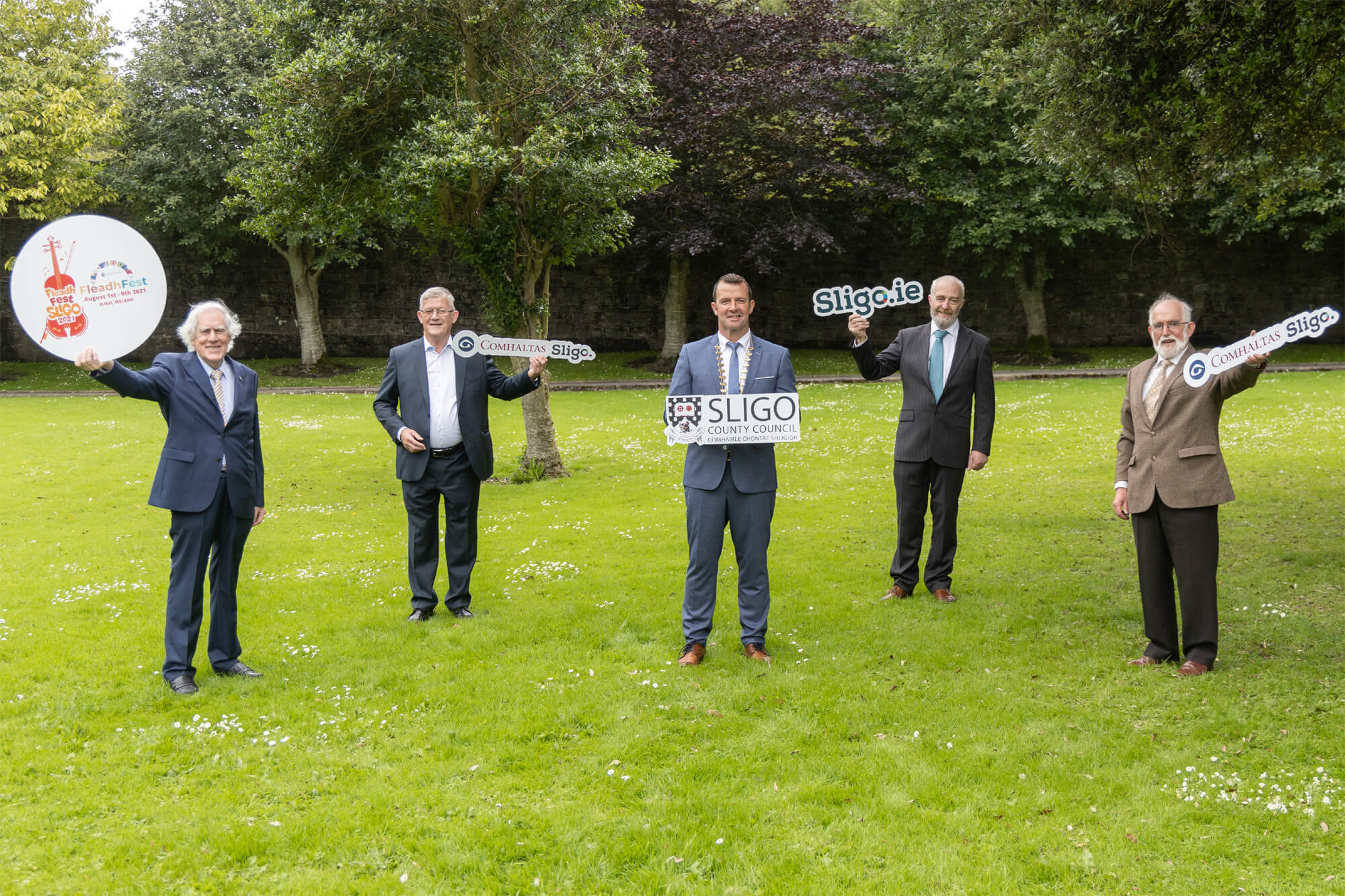 Acting Chief Executive of Sligo County Council Thomas Kilfeather sees Fleadhfest as a great opportunity to showcase Sligo to international audiences.
"Sligo County Council are fully supportive of this great endeavor. Throughout the performances – which I understand will also include virtual sessions and online competitions – Sligo's scenery and tourism product will be heavily featured. At a time where visitor numbers have been restricted, we see Fleadhfest as a chance to profile the county in a really innovative way, and we're excited by the prospect of reaching new future visitors to the county."
Sligo hosted two very successful Fleadhanna Cheoil in 2014 and 2015, and when Comhaltas Ceoltóirí Éireann – who have been running the Fleadh Cheoil since 1951 – decided to run an online Fleadh this year, the first call was to the Sligo team to see if they could build on those previous successes.
Ard Stiúrthóir of Comhaltas Ceoltóirí Eireann, Labhrás  Ó Murchú, believes this is a very important year for Comhaltas, as it's the 70th anniversary of the very first Fleadh in Mullingar.
"The image we have of the Fleadh in normal times is of thronged streets, music sessions everywhere and people from far and wide converging on the host town. Because of Covid, this year has to be different. But I can't wait to see what Sligo can produce. The people of this county have done marvellous work in previous years at Fleadh Cheoil na hÉireann. Bringing our music to the world via live streaming will be a great opportunity to reach out places where traditional Irish music is enjoyed and played, from Japan to the United States, Australia to Germany, displaying unity through our music."
Fleadhfest takes place over nine days starting on August 1st. For anyone interested in finding out more, visit Fleadhfest.ie, where information on ticketing and live streaming is available. In addition, if you are a budding musician – of any standard – and would like to contribute a short performance to the Fleadhfest programme, information on how to record and send your clip is also available there. All you need is a smart phone, a good tune, and the enthusiasm to join musicians from the world over for what should ba a unique showcase of traditional Irish music, song and dance streaming from Fleadhfest this August 1st – 9th.
Source: Sligo County Council
[sibwp_form id=2]