Organised by the Local Enterprise Offices (LEOs), the day was opened by Pat Breen T.D., Minister of State for Trade, Employment, Business, EU Digital Single Market and Data Protection, in the Crowne Plaza Hotel in Blanchardstown.
The theme for this year's event was "Making It Happen" in what is NWED's 13th year run by the LEOs nationwide and supported by Enterprise Ireland, with funding from the Government of Ireland. The Dublin NWED event was funded by the LEOs in the Dublin Region and Enterprise Europe Network.
The event has grown year-on-year with 17 events taking place across the country and over 1,700 female entrepreneurs in attendance. This growth in popularity has been reflected in the national growth in female entrepreneurship. There was an 18% increase in female entrepreneurs taking LEO training programmes last year as almost 22,000 female entrepreneurs engaged with their LEO on supports in 2018.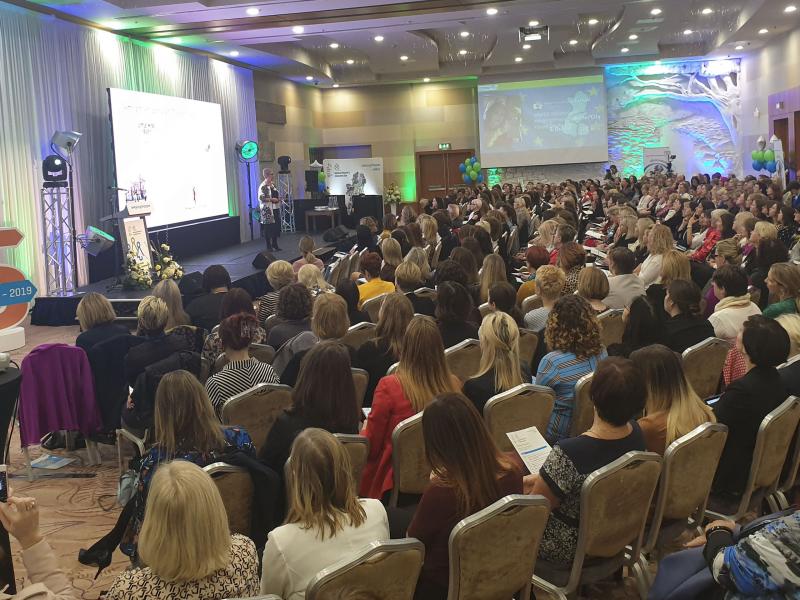 Some of Ireland's best-known female entrepreneurs shared their experience at the event in Dublin. These included; Caroline Keeling, CEO of Keelings; Siobhan Murray, author and resilience coach; Krissy Gibson, CEO of Take the Cake; Niamh Sherwin-Barry, Director of the Irish Fairy Door Company, and Melanie Boylan, Director of STOMP Social Media Training. An excellent line-up of female business panellists featured: Jo Harpur, CEO of Jo Harpur Jewellery; Emer Cleary, Founder of Emu Ink Publishing; Aimée Madden, CEO of Clinishift; Jessica Conlon, Founder of Twigs; and Jenny Melia, Business Development Manager at Enterprise Ireland. The Dublin Region NWED Ambassador for 2019 was Ann McGee, Director of MIAS Pharma.
Pat Breen T.D., Minister of State for Trade, Employment, Business, EU Digital Single Market and Data Protection, said: "It is important for Ireland as a country that there should be a far greater participation of females in our entrepreneurial landscape and it is very positive to see the stats moving in the right direction. Events like National Women's Enterprise Day play a key role in continuing that momentum. Ireland has a marvellous entrepreneurial culture that is evident across the world and we need more females to become part of the journey. Today is about celebrating those who have already done it and encouraging others to take the first step. I would encourage all budding female entrepreneurs to contact their Local Enterprise Office and check out the range of supports that are available."
Oisín Geoghegan, Chair of the Network of 31 Local Enterprise Offices and Head of Enterprise in Fingal, said: "National Women's Enterprise Day is an important date on the Local Enterprise Office calendar. It gives us the opportunity to highlight the success stories of women who continue to do amazing things in business, across every sector. The day itself is an opportunity for businesswomen to network, engage, share tips, advice and encourage each other. It also gives those, who are thinking of taking the step, the chance to learn from female entrepreneurs who have been in that position and understand that the support is there if you ask for it. The hardest part is taking that first step and when you do speak to your Local Enterprise Office you will quickly see the support is there to help you make your idea a reality."
Ms AnnMarie Farrelly, Chief Executive of Fingal County Council, added: "Fingal County Council, through the Local Enterprise Office, is delighted to have hosted the biggest National Women's Enterprise Day ever in the country with over 400 female business owners/managers in attendance. Many of the speakers present have created their business in their communities, contributing to job creation in their local economies. We encourage all potential female entrepreneurs to engage with their local enterprise office and avail of the many supports available to them. It is fantastic to see that 60% of participants on our management development programmes are female."
With over 1,700 attendees at National Women's Enterprise Day, the figures for female entrepreneurship continue to rise. Over 4,500 female entrepreneurs availed of business mentoring in 2018 up 19% from the previous year with nearly 22,000 taking part in a range of Local Enterprise Office training programmes, a rise of 18% from 2017. The 2018 Global Entrepreneurship Monitor report also shows that nearly 40% of new business owners in Ireland are now female.
NWED is just one of the initiatives of the LEOs aimed at fostering entrepreneurship and assisting companies to start up across the country. Others include Local Enterprise Week, Ireland's Best Young Entrepreneur, the National Enterprise Awards, the Student Enterprise Programme and the Local Enterprise Village at the National Ploughing Championships. For more information on supports available to Fingal businesses, please visit www.localenterprise.ie/Fingal